Flags found in the German weekly news magazine "Der Spiegel"
2001: February
Issue 6 (February 5th)
p. 145: Israeli politician Ariel Sharon in front of an Israeli flag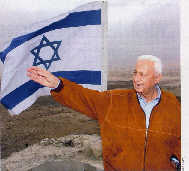 p. 150: Chile's ex-dictator Pinochet with a lot of military flags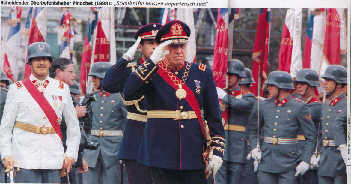 p. 151: Chile's president Lagos with a barely visible president's flag in his office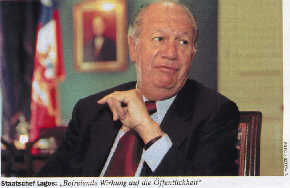 p. 155: flag of the Greek terrorist organization "17 N" (17th November).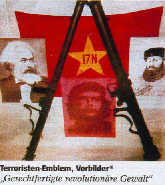 p. 158: Greek demonstration against the USA, with plain red flag.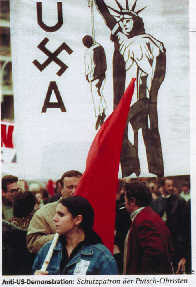 p. 220: Tyrolian flags (as hanging flags; with and without eagle) in St. Anton (Austria).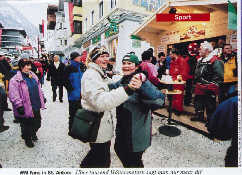 Issue 7 (February 12th)
p. 44: Hitler (1934) with a lot of SA standards.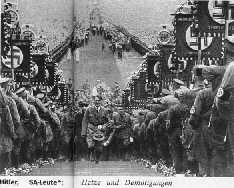 p. 143: Palestinians with a Palestinian flag (contains some writing in the white stripe) and a white flag with some device.
p. 164: Demonstration in Minsk (Belarus) with display of the former Belarus national flag (before 1995).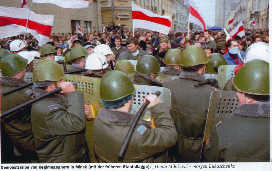 p. 166: Former prime minister of Belarus, Chigir, with some tiny desktop flags, one of them white-red-white with some device in the centre.
p. 223: Jewish demonstration "March of the Living" in Auschwitz, showing Israeli flags and also a white flag with yellow Magen David and hebrew inscriptions.
p. 227: Berlinale film festival in Berlin: several flags (France, Greece, Canada, Hungary, New Zealand, Japan, Argentina, China, Algeria) as well as a "Berlinale" banner.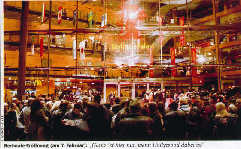 Issue 8 (February 19th)
p. 22: PLO flag during the congress in Algier (1969), that Joschka Fischer (now German foreign minister) attended.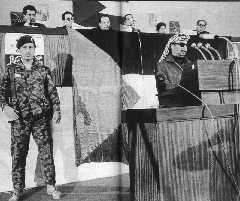 p. 23: PLO flag during the congress in Algier (1969), that Joschka Fischer (now German foreign minister) attended.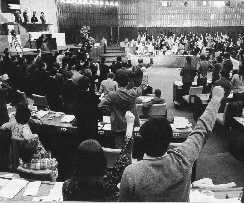 p. 31: Demonstration of Iranian exilees against president Khatami (Berlin, 2000): green-white-red tribands with sun (and lion??) are displayed as well as yellow flags with a brown device similar to the logo of the National Liberation Army of Iran on FOTW page http://atlasgeo.span.ch/fotw/flags/ir-muja.html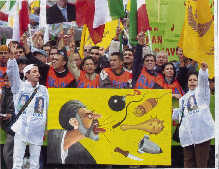 p. 103: Flag of the US Securities and Exchange commission: white flag with seal.
p. 105: Ad for tourism in Norway: Norwegian postal ensign, showing the letters in capitals (http://atlasgeo.span.ch/fotw/flags/no-post.html).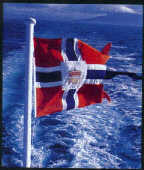 p. 139: Demonstration in Kiew (Ukraine) showing at least three types of flags: flag of the UNSO (http://atlasgeo.span.ch/fotw/flags/ua}.html); also a pale blue flag with some yellow device and a yellow flag with a variant of the Ukrainian trident on a blue field.
p. 152: US submarine "Greeneville" showing a weird ensign: behind the US flag a greenish flag with some white devices (barely recognizable).
Issue 9 (February 26th)
p. 114: US and German flag along the flag of the software company SAP (logo on bedsheet flag) in front of the New York Stock Exchange.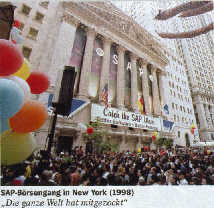 p. 133: Flag throwing in Switzerland: not only a huge Swiss flag, but also a square variant of the EU flag.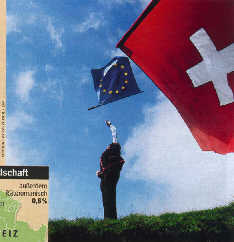 p. 141: US victory parade after the Gulf War (New York, 1991): US flags and military flags on display.